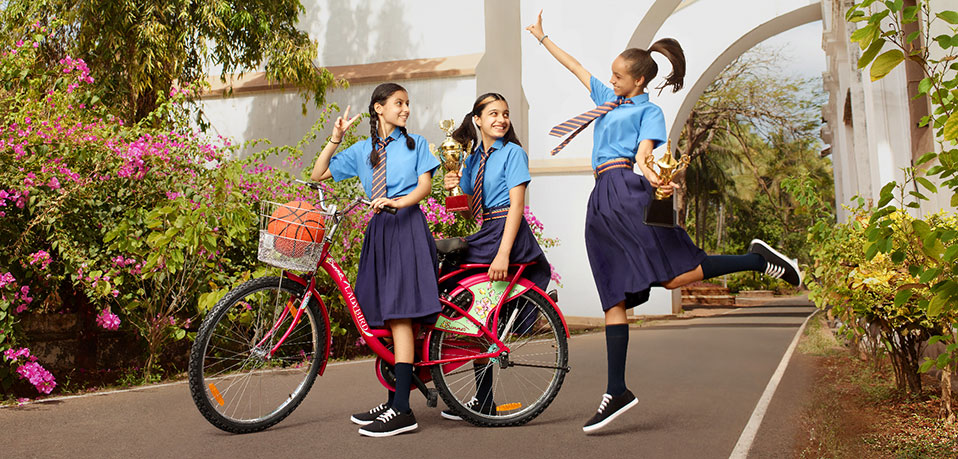 Riding since 1949
Established in 1949 by the Murugappa Group in collaboration with Tube Investments (UK), TI Cycles has transitioned from just dealing with bicycle manufacture and design to becoming an expert in mobility and well-being solutions. Known best for its flagship bicycle brands – BSA, Hercules, Montra and Mach City, TI Cycles has practically created and perfected every new cycle category in the country – the first MTB, the first geared bike, the first Shox model, the first girls bike, the first kids bike, the first light roadster, the first carbon frame bike and India's first cycling café. The first Hercules bicycle rolled out in 1951 – the first of many. TI Cycles has plants at Chennai & Rajpura and major warehouses at Guwahati & Chennai through which it serves a nationwide 1,200 plus dealer-network.
BSA is a brand that's close to the heart of many Indian families. With a legacy spanning over 153 years, it has evolved into a household name for bicycles. The brand is proud to have many firsts to its credit in India – the first bicycle for kids and the first sports light Roadster. At its heart, BSA is all about freedom, fun, excitement, and energy. No wonder it's among the most-loved brands in the country
Currently, TI Cycles is the market leader in the 'Specials' segment with a nationwide presence bolstered by a network of around 11,500 primary, secondary dealers and warehouses. BSA has been crowned with the "Superbrands 2023" award in recognition of the exceptional excellence in the field!
Our Story
1949

2 Years after Independence

Murugappa Group founded TI Cycles, with Tube Investments, UK.

1951

First Factory

His Highness, the Maharaja of Bhavnagar (then Governor of Madras State) inaugurated the TI Cycles 'A' factory. The first Hercules rolled out of the plant and went on to become an enduring best seller.

1954

Second Factory

The 'B' Factory of TI cycles to manufacture bicycle components was inaugurated by His Highness Jayachamaraja Wadiyar, the then Rajpramukh, Mysore State.

1955

The Brand inception

Hercules (India) is renamed as Hercules- an indication of our collaborator's acceptance of TI quality standards.

1960

1 Million Mark

The one millionth TI bicycle is made in February.

1970

Around the World

TI Cycle was awarded the Government of India's trophy for outsourcing export performance during 68-69.

1974

Year of Silver Jubilee

TI India celebrated 25 years of pioneering existence in many fields.

1976

Biggest Ever!

TI conducts biggest-ever bicycle market survey and holds first all India sales conference at Madras.

1992

Launching MTBs

Keeping its pioneering flag flying high, TICI introduced the first MTB-Hercules MTB, till date the largest selling MTB in the market.

1993

Launching ROckshox

Launched Hercules Rockshox, the first bike with shock absorbers .

1998

Topgear X Ajay Jadeja

Launched Hercules Topgear. Endorsed by star Crickter Ajay Jadeja, it created a whole new category of geared bikes in this country.

2006

The Launch of Track & Trail

TI launches its first flagship store, Track & Trail in Ahmedabad.

2008

Increasing Retail Footprint

The retail footprint increases to 150 Track & Trail outlets

2011

A milestone opening

200th Track & Trail Store opened in April 2012

2012

Award & Recognitions

• TI Cycles of India won the 'Emerging Market Retailer of the year' award in the Asia Retail Excellence Awards 2012. • Hercules was selected as Superbrand of the year

2019

#MadeforMore

Hercules launches a new campaign of Made for More

2020

#BoysareBack

After COVID dwindled, Hercules launched one of the most acclaimed campaign Boys are Back

2021

Hercules X Rishab Pant

Hercules Singed up Indian Batsman Wicketkeeper Mr. Rishab Pant as the brand ambassador